The Lloyd Junior Legion team, trailing Middletown, 7-2, rallied for eight runs in the bottom of the fourth inning as Brandon Mack got two walks in the inning, the second driving in the go-ahead run. Mike Weed and Paul Hansut had RBI singles as Lloyd took a 10 – 7 lead.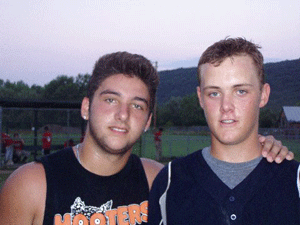 Later Middletown would tie the score at 10-10 and Vinny Valentino came in in relief to quiet the Middletown bats and make a clutch hit to give Lloyd an 11 to 10 lead in the bottom of the sixth inning. Mack then drilled a two-run single to up Lloyd's lead to 13 to 10. Joey Wildrick's sacrifice fly finished Lloyd's scoring as it won the game, 14 to 10.
Valentino was brought in to turn out the lights for Middletown and he did.
"There was a lot of pressure and I love the pressure," he said. When the team needed a reliever Valentino wanted the ball. "I want the ball all the time," he said. Mack liked the sound of Valentino's fast ball hitting his padded catcher's mitt. Mack said, "I like Vin, when he comes in. He has a good curve. "
Valentino said that when pitching "I try to follow the simple fundamentals." He has good mechanics and credits coach Steve Delmar with making him a better pitcher.
– Craig McKinney