They won two straight District 19 junior Little League titles, and this year the team from the Town of Newburgh wanted to add a senior title to their run.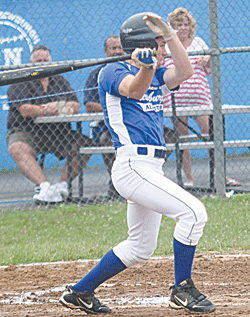 And they did that Saturday at home against Wallkill Area after scoring four 6th inning runs in the 7-3 victory.
"They were hopeful they'd get to this point," said Bill Pellino, Newburgh's manager prior to facing Wallkill Area.
Saturday's title victory was part of a two-game set in which Wallkill Area won the first game 4-1 when Alec Guevara hit a walk-off three-run homer in the seventh. In the deciding game, Dominic Pellino drove in a pair of runs, including one in the breakaway sixth.
Gabe Calderone, who got the save in the second game, made two big catches from centerfield early in the first game that he turned into inning-ending double plays with strong throws.
Calderone said the team was confident they'd be in the title game after winning those two straight junior titles.
"We've all been working to get here for awhile," he said.
Newburgh advanced to finals series against Wallkill Area with a 2-1 victory over Monroe-Woodbury in New Windsor Thursday July 11. Nick Geyer hit a 10th inning RBI double after Nick and Anthony Pacifico combined for a one-hitter to give Newburgh the victory.
"It was best game I was ever involved in," said Pellino.
Newburgh now heads to Stony Point this week for the Section 4 championships.
By Bond Brungard
sports@tcnewspapers.com